Det belarusiska Människorättscentret Vjasna är en av Belarus främsta människorättsorganisationer grundad år 1996. Vjasna arbetar för att främja demokrati, mänskliga rättigheter och ett aktivt civilsamhälle i Belarus.
Hi Maryna! You are a member of the Human Rights Centre Viasna. Can you please tell us a bit more about the #FreeViasna campaign?
The #FreeViasna campaign was started on September 17, 2021, the first anniversary of Marfa Rabkova's detention. At that time, 7 of Viasna's human rights defenders were already in detention, members of the organization had undergone dozens of searches, and it became clear that our colleagues would not be released anytime soon. That's why, together with international human rights organizations, we decided to launch the #FreeViasna campaign in order to demand from the Belarusian authorities to immediately release the human rights defenders and all political prisoners, as well as to continue to draw the attention of the international community to the human rights situation and to keep the issue of political prisoners in the spotlight. A prime example was the #FreeAles campaign for the release of Ales Bialiatski, which led, among other things, to his early release from prison.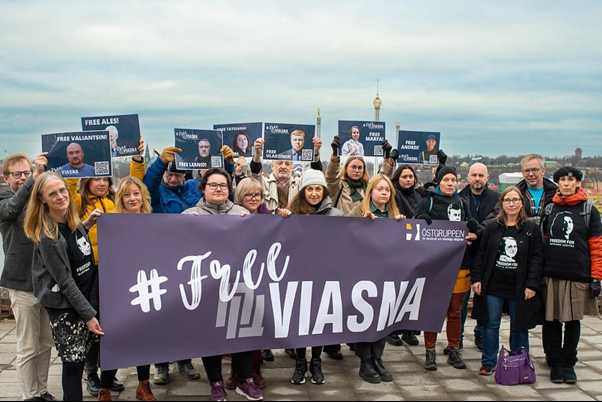 During this year, we have held many street actions in various countries and cities, signed postcards to our colleagues, we continued to speak about human rights in Belarus, and called the names of Viasna human rights defenders at all possible venues. It makes them feel supported and they continue to fight even when behind bars.
We have also created a website freeviasna.org with all the relevant information on the Viasna case.
What are the recent developments in the cases against your colleagues?
At the moment 6 human rights defenders of Viasna are in prison.
Viasna chairman Ales Bialiatski, his deputy Valiantsin Stefanovich and lawyer Uladzimir Labkovich have been in pre-trial detention for more than 15 months. It is known that the charges against them have been changed from "non-payment of taxes" to "smuggling," and they are also accused of "financing active group actions that grossly violate public order."
In a recent letter, Valiantsin Stefanovich said that they had already begun reading the case files and could see each other, but could not communicate. The human rights activist assumes that the trial will begin in December or January and will be held behind closed doors, while the punishment will be "deliberately harsh". Each of them could face 7 to 12 years in prison.
On September 6, coordinator of Viasna's Volunteer Service Marfa Rabkova was sentenced to 15 years in prison under ten articles of the Criminal Code, and volunteer Andrei Chapiuk to six years in prison under four articles of the Criminal Code. Now they are waiting for an appeal hearing. Marfa and Andrei have been in detention for over two years. We are convinced that such long terms are revenge of the authorities for their peaceful human rights activities and assistance to Belarusians in defense of their rights and freedoms.
Lieanid Sudalenka, head of Viasna's Homiel branch, continues to serve his 3-year term in a penal colony. It is known that he receives letters only from his family and has been prohibited to see his relatives allegedly for violating prison rules.
We were extremely happy to seeour volunteer from Rechytsa, Tatsiana Lasitsa, released on September 24. The court sentenced her to two and a half years of imprisonment, and she spent 1 year and 8 months in jail.
What do you predict the outcome to be in the cases which are still ongoing?
Unfortunately, our estimate is unfavorable. Obviously, the authorities decided to impose the harshest possible punishment on the Viasna human rights defenders, so the charges were reclassified to be even more absurd. Under Article 243, the maximum term of imprisonment could be 7 years, while under Article 228 the term of imprisonment starts from 7 years and can be up to 12 years.
The lawyers are still under a subscription on non-disclosure, so it is difficult to understand what exactly the charges against our colleagues are. One thing is for sure: the authorities are trying to picture the human rights defenders, who devoted their whole lives to defending the rights and freedoms of the citizens of Belarus, as "smugglers". Which in itself is ridiculous!
Viasna and the Belarusian human rights movement face high levels of repression and a lot of people have left the country. How do manage to remain the strength to continue your important work?
One of the tasks of our team, after the arrest of the leaders, was to maintain the same quality and pace of work that we had before. We understand that now our activities are more important and relevant to people than ever before, because there are more than 1,350 political prisoners in Belarus. And this is only those we know about. The scale of repression is only increasing; detentions, torture and criminal prosecution of Belarusians don't stop for a single day.
I think we often support each other within our team, maybe it's not always obvious even to ourselves. We are also very supported by the human rights community, both Belarusian and international. The awards that recognize our work give us strength and energy, convincing us that we're on the right track and doing important work.
The Nobel Peace Prize was given to Ales Bialiatski, together with Center for Civil Liberties and Memorial, who has been detained since July 2021. What does this mean for Viasna and your work?
It is a tremendous recognition of Ales Bialiatski as a fighter for human rights and freedoms in Belarus! It is also a recognition of the importance of all the work Viasna has done over more than 25 years.
It is also a message to the world: at a time of war in Ukraine and oppression of civil society in Belarus, human rights and freedoms are more important than ever, and people who defend them and stand on the same values deserve attention to their activities and way of life.
How have the announcement of the prize been received by Belarusians in Belarus and exile?
This is quite a complicated question, because it is impossible to estimate reliably how the Belarusians perceived the news about the prize. I think it's a great surprise and honor for Belarusians that Ales became a Nobel Peace Prize laureate. People from across the world wrote to us to congratulate Ales and Viasna, emphasized the importance of our work, wished us not to give up and said all kinds of warm words.
In Belarus, any public displays of solidarity are actually forbidden. But there are brave people who express their support even from within Belarus.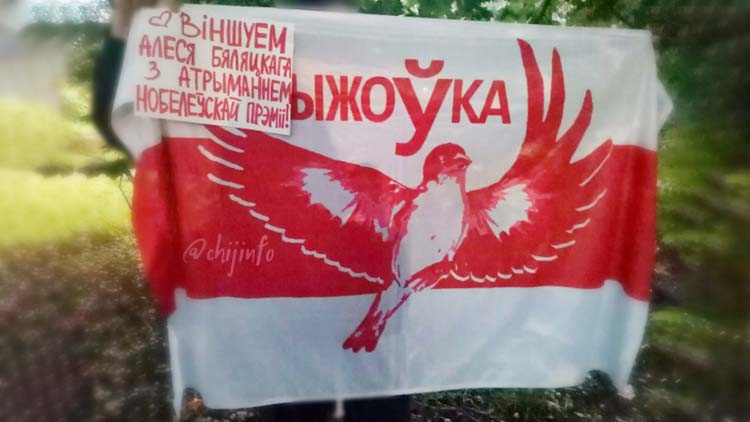 What role does the Belarusian human rights movement play in the war on Ukraine?
A coalition of human rights organizations issued a joint statement condemning the war. Members of our organization in different countries volunteered in the first months, helping refugees from Ukraine and collecting humanitarian aid. For example, Darya Rubleuskaya organized such a gathering in Vilnius.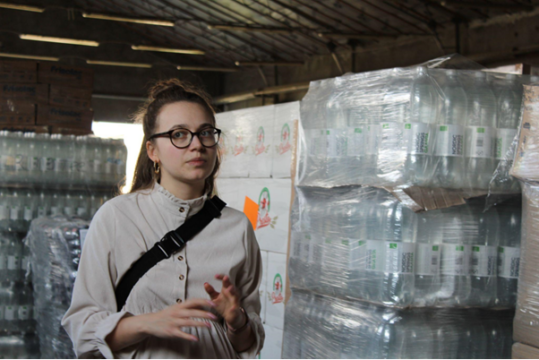 Some of our colleagues and volunteers stayed in Ukraine and helped locally as much as they could. Several are still there now.
We also participated in an anti-war action, organized by the Human Rights House Network in Vilnius. We understand that the situation in Belarus also depends on the outcome of the war. Now, unfortunately, our country is occupied not only by Lukashenka's regime, but also by Putin's Russia. The issue of covert mobilization of Belarusians and dragging them into military action is acutely on the agenda.
One last question: How can people in Sweden support the work of Viasna and other human rights organisations in Belarus?
The most accessible way is to write words of support to our colleagues and other political prisoners. You can also do it online through the Solidarity Postcards Workshop form.
Another way is to spread information through conversations, social media posts, and solidarity actions. Any convenient format is huge support and an opportunity to make the situation in Belarus known to as many people as possible.
Not so long ago we launched a fundraising campaign on Patreon; you can support Viasna by donations.
---
Vill du engagera dig för Vjasna? Läs mer om Belarus politiska fångar och delta i kampanjen #FreeViasna.
Östgruppen har vid flera tillfällen uppmärksammat Vjasnas arbete:
Östpodden: Fem frågor till Natalija Satsunkevitj från Vjasna
Hur började ditt människorättsengagemang? Natallja Satsunkevytj
Belarus: Ett civilsamhälle i spillror